High-Quality Tents for All Kinds Business Events & Holidays
The team of Shelters Bulgaria offers on the Bulgarian market the products of the American brand E-Z UP – number 1 in its class, and a world leader in the industry for more than 30 years. In addition to professional tents, you will find more: umbrellas, flags, promotional stands and everything go with optional custom branding of the client.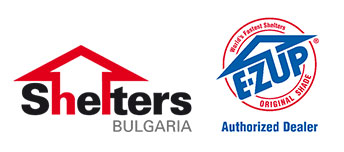 SEE THE SHADOW INTO ANOTHER LIGHT
Shelters Bulgaria Ltd. – a Unique & Official Representative of the E-Z UP® original products for Bulgaria

QUALITY ALWAYS OBSERVES THE PRICE
Why Should I Choose E-Z UP® Instant Shelters and Products
The prestigious brand E-Z UP has been a leader among manufacturers for more than 30 years and is officially recognized as the first in innovation, quality and customer satisfaction in over 50 countries.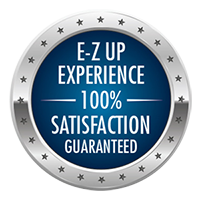 USAGE
SHELTERS AND PRODUCTS E-Z UP®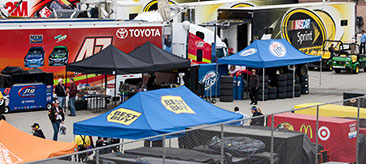 RENT A TENT
---
RENT PROFESSIONAL SHELTERS
• any television, movie and advertising productions
• event marketing – trade shows, conferences, expo centres, product demos
• outdoor advertising and sponsorship
---
PERFECT FOR ALL KIND OF LARGE AND SMALL EVENTS
• events with catering
• concerts, parties and other musical events in the open air and indoors
• sports events and competitions
• festivals and fairs
• wedding and family celebrations
---
E-Z UP® SHELTERS ARE NUMBER 1 FOR
• family vacations
• courtyard and garden
• beach and camping
• picnics and outdoor barbecues
• hotel complexes and swimming pools
• hunting and fishing
• tourism and expeditions

CUSTOM SHELTERS
COLORS AND GRAPHICS

Get the most out of your style and message to customers with one of the highest quality digital prints in the world and the many E-Z UP® branding options.

OUR CLIENTS
What Clients Say About Us
"We are very pleased with the quality of the tents, the proof of quality is their long use – from June 2017 every Tuesday the tents are in one of the liveliest places in Sofia – the sidewalk of 55 "Hristo Botev" Boulevard – in front of the Ministry of Agriculture. In addition to keeping it perfectly from rain, sun and wind the participants at

our farm festival

, the tents give a very beautiful and aesthetic look to the event. Periodically we are removing the tops and sidewalls, and wash them in a public laundry – they become as new!"

Dr. Stoiko Apostolov

Manager BIOSELENA

"As one of the leading companies in the field of purification, use and storage of water, PI Trade Ltd. participates annually at a number of exhibitions such as Stroiko Expo, Architectural Construction Week, Water Tech Expo, Bata Agro, International Plovdiv Fair and others.

For the attractive presentation of the company stand, we turned to Shelters Bulgaria EOOD, which made a branded tent, table and chairs according to our design and according to our requirements.

With this reference, I would like to express my satisfaction with the work with Shelters Bulgaria EOOD and the wonderful result of the cooperation with them. The delivered materials are extremely high quality, easy to use and transport, with a long warranty period. I highly appreciate their professionalism, the excellent communication we had, their personal attitude and creative approach. All the arrangements were strictly followed and the project was completed on time."

Raya Tsintsova

Marketing manager

Trace Angus Farms Ltd. publishes the current reference to Shelters Bulgaria EOOD in the assurance that the company fulfils the professional commitments related to the production of advertising stands, banners and flags.

As a courtesy of applied creativity, quality of performance and strict adherence to deadlines, we strongly recommend Shelters Bulgaria EOOD as a reliable partner fulfilling the commitments at a highly professional level.

For a second year already, we trust Shelters Bulgaria, by using their tents for the Camping and Caravanning Expo in Sofia. We as organizers and exhibitors, we are all pleased with the products and services that Shelters Bulgaria offer.